In 2009, my coffee hardened veins and I produced WeaverPix v1.0. The very firstslideshow plugin that ran without Adobe Flash.This meant that, unlike the built in Slideshow, WeaverPix ran on the (then) new iPhones!It was welcomed in the RapidWeaver community with open arms and empty mugs. Proud? Yes. Satisfied? Never! In my caffeine rage of perfection, I shipped v2 aas a free upgrade a mere 6 months later. Version 2 featured an entirely new drag and dropUI that made managing Photos even easier. Also included in version 2 was support for variousPhoto sharing services such as Flickr and Picasa. Never before this easy to turn photos intostunning slideshows.
For over 2 years I continued to pour cup after cup into maintaining and improvingv2. Then, on one faithful day last Fall, I quit my job and began working full time onRapidWeaver related goodies.
Since leaving my job I have made friends with the indigenous Starbucks population and now Iam set to unveil WeaverPix v3! Version 3 takes the product you already own to a whole newlevel and it could be yours for free!
Have you purchased WeaverPix on or after August 30, 2012? Enjoy a free upgrade to v3.
Have you purchased WeaverPix prior to August 30? Upgrade now for only $14.95.
Either way, upgrading is easy. Just enter your v1 or v2 license code as a coupon code at checkout. Your discount will be automatically applied.
WeaverPix 3 features:
Better SEO WeaverPix now allows you to set the alt tag for your images for better SEO compliance.
Themes WeaverPix 3 now includes 25 professionally designed themes that make your site look great.
New UI Version 3 now includes a completely new (but familiar) UI that makes drag, drop, and sorting your images a whole lot easier.
Dribbble & 500px In addition to Flickr, Picasa, and Image Warehousing, version 3 now includes support for the popular photo sharing services Dribbble and 500px.
Admin Panel Yes, thats right. Admininister your Image Warehouse albums directly within the browser. Upload, edit, and delete images in your album without using RapidWeaver.
iOS & Android support What could make the Admin Panel better? It is 100% responsive and runs great on Android and iOS devices (iOS 6 or later).
Smart Technology PHP albums now benefit from smart caching. Images from PHP services are stored for 15 minutes to increase page speed and decrease load times.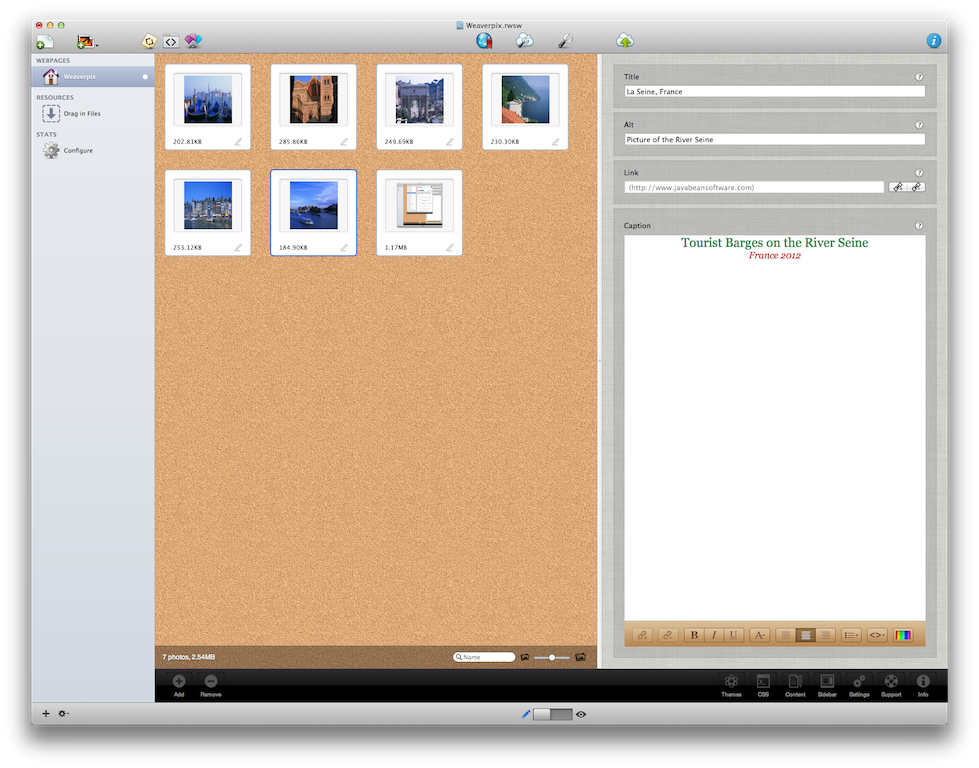 WeaverPix 3's main window showcasing the new UI.