In order to continue to bring RapidWeaver users the very best hosting, it is with great pleasure to announce a new flavored roast at Javabean Hosting,CloudFlare!
What is CloudFlare?
CloudFlare is a CDN (Content Delivery Network) which specializes in the delivery, optimization, and security of websites. By caching your websites on the CloudFlare network, you're visitors will load a copy of your site from the CloudFlare server geographically closest to them. This should, assuming CloudFlare does their job, drastically increase your site's response time.Here is a 90 second video that describes CloudFlare's services.
What are the benefits of CloudFlare?
CloudFlare owns and operates a world wide network of servers to deliver optimized versions of your website. As a result, without any configuration on your part, you can take advantage of:
Decreased page load times by serving pages from a CloudFlare server close to your visitors.
Reduced bandwidth usage. Since CloudFlare serves up cached versions of your pages, your Bandwidth usage at Javabean Hosting, in theory, should drop.
What are the drawbacks of CloudFlare?
Like any other service, Cloudflare can go down. If Cloudflare goes down, your site will go down regardless of the state of Javabean Hosting. Of course, with CloudFlare, in the event Javabean Hosting goes down, the static portions of your site (HTML files only, no PHP pages) site will remain available.
How much does CloudFlare cost?
CloudFlare offers a free plan that is more than sufficient for most users. There are, however, additional plans with additional features that require a paid subscription.
How do I enable CloudFlare?
Enabling CloudFlare is as simple as 2 clicks. Begin by clicking the CloudFlare icon found under the Software/Services tab in the Control Panel. In the CloudFlare section, simply click the gray icon next to the domain that you'd like to have powered by CloudFlare. Please note that free plans do not work for sites that require SSL (if you're unsure if you site uses SSL, please let me know and I'll be happy to answer any questions you might have).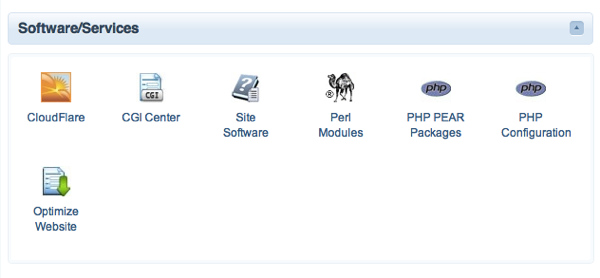 CloudFlare Control Panel item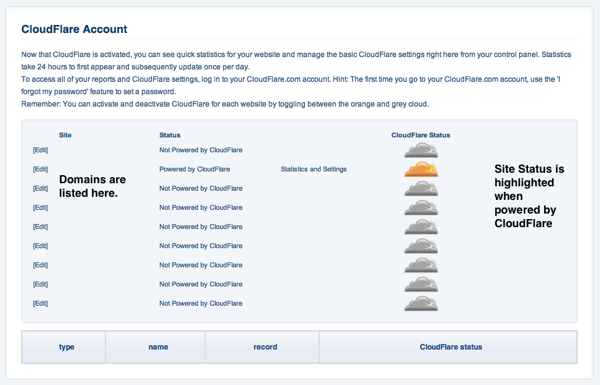 CloudFlare settings and configuration.
Conclusion
After evaluating CloudFlare for a week on one of my sites, I am happy to begin offering it to Javabean Hosting users. With a free service level, CloudFlare provides a great entry level offering for RapidWeaver users. I believe users will find CloudFlare a powerful addition to their sites.
Your barista, Greg